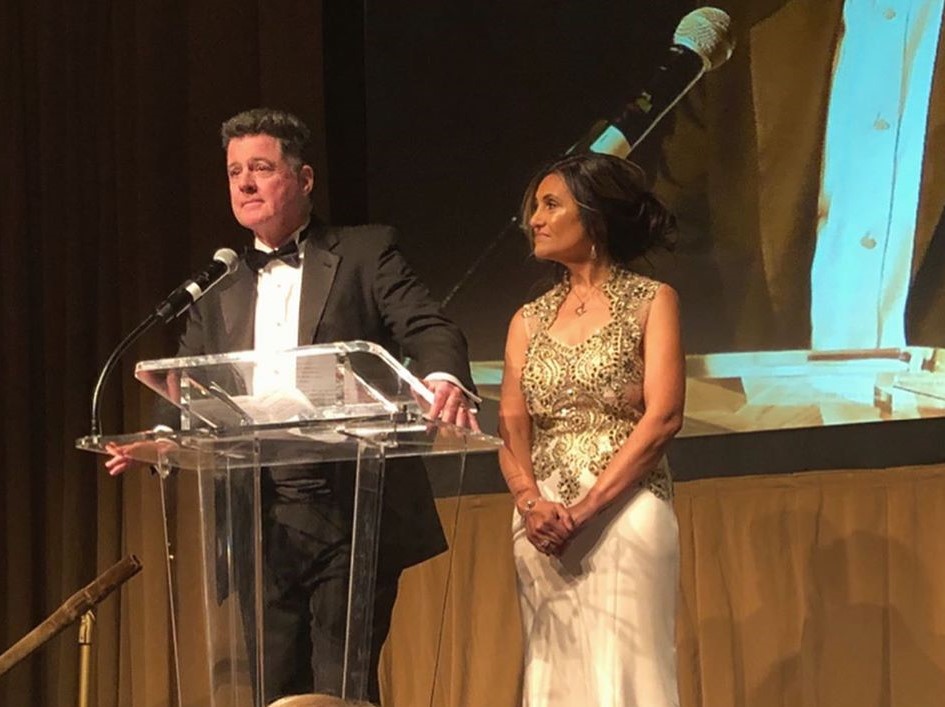 A Safe Haven Hosts & Honors Top Leaders at 25 Year Anniversary Gala!
A SAFE HAVEN HOSTS & HONORS TOP LEADERS IN MEDIA & BUSINESS
"A LEGACY OF EXCELLENCE'
THE 'SOLD OUT' 25 YEAR ANNIVERSARY GALA CELEBRATED THE MOST COMPLETE MODEL TO END HOMELESSNESS
November 23, 2019 (Chicago, Illinois)  On Saturday, November 16th A Safe Haven Foundation hosted their SOLD OUT 25 Year Anniversary Gala. The event hosts were A Safe Haven co-founders Neli Vazquez Rowland and Brian Rowland, and Cinespace Chicago Film Studio, President, Alex Pissios served as the Event chair.  The evenings invocation was given by Benedict Creoll, OP, Pontifical University of St. Thomas Aquinas, Rome who traveled from Rome for the occasion. Awards were given to USA Today, Editor Bill Sternberg 'Champion in Media" and Custom Companies, President, Perry Mandera "Champion in Business. A special performance was provided by America's Got Talent 'Golden Buzzer' Winner and International Artist, Laura Bretan. Other featured speakers included testimonials by A Safe Haven Alums and Military Veterans Nikelcia Marcelin and Alfraedo  Lockhart, Small Business Advocacy Council, President Elliot Richardson, Advisory Board Member Dr. Martin Waugh introduced the Rowland's and City of Chicago proclamation was read by City Council Member Alderman Bryan Hopkins and Governor JB Pritzker provided a video in honor of the event. The event was only the 4th benefit ever hosted by A Safe Haven foundation to help raise awareness and support for Chicago's homeless.  Over 500 people attended from all over the Country and was the event held at The Drake Hotel. Prior to the event the fundraiser raised over $300,000 in sponsorships, live, silent auction, pledges and online and mail donations are still being collected and calculated.
"I was delighted to be there for A Safe Haven's 25 Year Gala! What impressed me was the dedication of so many people coming together to help others have a better life.  This does not easily happen in today's complex world. Such success cannot be attributed simply to human efforts. A Safe Haven has been hugely successful and blessed now for all these years.  Yes, more needs to be done, but something wonderful is happening by the Lord in this work. From what I can tell, the Lord has much bigger plans!" – Father Benedict Croell, OD Rome
"To get an award for raising awareness about the opioid epidemic, in the aftermath of my son Scott's death from a heroin overdose, is something I fervently wish every day I never had the occasion to receive. But I was pleased and honored to be recognized by A Safe Haven – and mightily impressed with the organization founders Neli and Brian Rowland have been able to build over the past quarter-century to combat addiction and homelessness in Chicagoland. The level of community support displayed at the gala was truly remarkable."
–ASH 'Champion in Media' Honoree, Bill Sternberg, editorial page editor, USA TODAY
"As a past A Safe Haven honoree recognized for our partnership and contributions to the community, it was a tremendous honor to serve as the Award Winning A Safe Haven 25 Year Anniversary Gala Chair to help commemorate A Safe Haven Co-Founders Neli Vazquez Rowland, and Brian Rowland amazing and momentous occasion. It was wonderful to help honor Bill Sternberg, Editor of USA Today and Perry Mandera, President of Custom Companies for their contributions to helping raise awareness and support for the opioid epidemic and veteran homelessness, respectively. I invite and encourage everyone to continue to support A Safe Haven, and our collective efforts to help our City lead the nation in helping heal root causes and ending homelessness in our back yard. There is no question that if we all do our part to the best of our ability to support their efforts, more lives will be saved and our City and nation could truly become a better world, for all, maybe even overnight!"   – ASH Gala Chair Alex Pissios, CEO Cinespace Chicago Film Studio
"I'd like to thank Neli and Brian Rowland for this amazing award. Many people don't know that A Safe Have Haven has over 800 veterans a year pass through their doors. They are a great resource to use when you may be looking to hire a veteran. I can't say enough about A Safe Haven and all of the fantastic things they do for so many needy people. Neli and Brian, you are truly gifts from Heaven! Please don't stop doing what you have done in these last 25 years… The Next 25 years will need you more than ever!! Everyone, please remember our veterans each and every day.
"We live in the land of the free, because of the brave!!"– ASH Champion in Business Honoree, Perry Mandera, Custom Companies & Chair of Illinois Trucking Association
"The Safe Haven 25th Anniversary Gala was a tremendous event.  I was very thankful for the opportunity to discuss the way opioid abuse impacts the small business community and our economy during the Gala.  By working together with a Safe Haven, we can continue to collaboratively push forward policy initiatives that will help end the opioid crisis." –
Elliot Richardson, President IL Small Business Advocacy Council
"A Safe Haven Organization allowed me for the first time to deal with these invisible and visible wounds such as hopelessness, fear, depression, homelessness, post party's depression and more. I am grateful for A Safe Haven Staff, Leaders, and more. I truly experienced A Safe Haven experience. As a result I am able to rebuild a better tomorrow for my legacy. Thank you A Safe Haven Family!!! As a result of your help I am currently in stable housing and pursuing my own business that supports the Veteran Community while aspiring for long term employment and running for office within the near future. My goals are expanding as a result of a bright future! The sky is the limit! My daughter has highs scores in school and is aspiring to accomplish great things in our community. While we have many roads to recover and repair are A Safe Haven provided a stabilization that has kick started our freedom in victory!! Thank you A Safe Haven". – Nikelcia Marcelin, Military Veteran ASH Alum Testimonial
"Sometimes when I couldn't get into a shelter, I slept on a bus stop. I would sit at Dunkin Donuts and pretend to be a customer. A Safe Haven Helped. For all those who want to give themselves a chance. Give A Safe haven a Chance." – excerpt from A Safe Haven Video Testimonial. – Alfraedo Lockart, Military Veteran Alum Testimonial
"On behalf of Brian Rowland and myself, it was truly a magical evening! The event exceeded our expectations as the room was graced with so much love, compassion and support for us, A Safe Haven and most of all humanity. It was exciting to be in the presence of some of Chicago's top leaders representing all facets of society who are not only the biggest hearts, but also some of the most generous supporters for the cause. It is events like this that allow us to honor amazing unsung heroes doing great work both raising awareness and taking action hiring people who have earned a second chance, especially our veterans. This event helped us raise the national consciousness about the issue of homelessness and equally as important it gave us the opportunity to raise precious and much needed resources that we need to help close so many of the funding gaps that we experience as demand continues to rise for our services, due to the opioid and homeless epidemics. We are incredibly thankful to our Chair our Gala Committee, our sponsors and guests for their wonderful remarks and generous support and most of all for joining us in our mission to break the cycle of poverty and homelessness for our neighbors experiencing social and economic crisis. Thanks to our growing list of informed, intentional and strategic partnerships and the support from exemplary sponsors and donors, together we can help to make all of our mutual and collective goals of helping our neighbors in need achieve self-sufficiency and independence into a reality" said Neli-Vazquez Rowland, Co-Founder and President of A Safe Haven. 
Special Thanks to Top Event Sponsors included: Platinum Tandem Companies; Gold Level: UPS, Wintrust, Command and Sysco; Silver Level: FGMK; NorthMarq, Ozinga, Rush University, Facebook, Magellan Corporation Media Sponsors: ABC 7 Chicago and Better Magazine
To donate to fundraiser:
Online: www.ASafeHavven.org/gala or
by Mail: A Safe Haven Foundation 2750 West Roosevelt Road, Chicago, IL 60608
Attn: Katherine Agle, Development Department
A Safe Haven is a 501(c)3 not for profit non partisan organization. We advocate for policy issues on behalf of poverty, Opioid, mental health behavioral healthcare, jobs and housing issues. Any political photos and media reflected here does not imply political affiliations or endorsements.