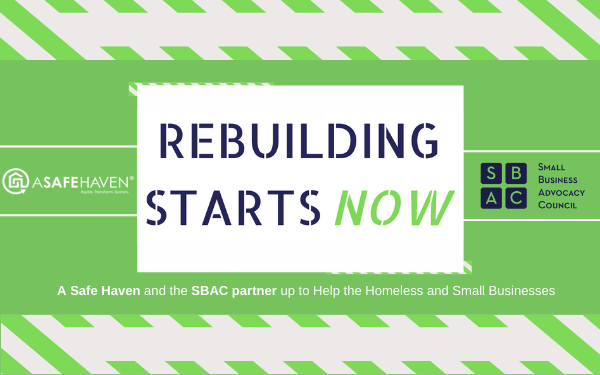 Small Business Advocacy Council Honors A Safe Haven President, Co-Founder as the 2021 "Small Business Advocate of the Year"
(Chicago, IL) April 7, 2021—The Small Business Advocacy Council recognized A Safe Haven President and Co-Founder Neli Vazquez Rowland as the 2021 "Small Business Advocate of the Year" at the "Rebuilding Starts Now" virtual event.
The virtual event was presented by A Safe Haven (ASH), an internationally acclaimed top Chicago-based 501 (c)3 nonprofit dedicated to preventing and ending homelessness and helping get people back to work and permanently housed and the Small Business Advocacy Council (SBAC), an advocacy organization fighting for the small business community.
Emceed by former longtime Chicago celebrity news anchor Rob Johnson, the event celebrated the rebuilding of lives and businesses during this devastating pandemic and featured real, heartfelt stories of small business owners and individuals that were impacted by COVID-19 and homelessness. The event showed how A Safe Haven helped individuals overcome homelessness and how the SBAC advocates for the small business community.
"This historic partnership between A Safe Haven and the Small Business Advocacy Council is a powerful example of how to align the interests of both small businesses and a robust homeless service organization that helps build a strong workforce. We need both to rebuild from the devastating impact of the pandemic on those hardest hit socially and economically by the pandemic," said Vazquez Rowland. "Thanks to this strategic partnership we have done a tremendous job of helping give a unified voice to so many people and small business owners."
So far, ASH has helped over 130,000 people since its founding in 1994. "What we do now will impact us and future generations," Vazquez Rowland said. "We must focus on prioritizing rebuilding lives and small businesses now."
Also, during the event, the SBAC Entrepreneur Award of the Year/In Memoriam was given to Paul Kaufmann and Karl Zimmerman, who are deceased. These business leaders were engaged, compassionate individuals who cared about the small business community, supported policies to help small businesses, and helped to guide entrepreneurs to success.
"This event allowed people to come together and support A Safe Haven's mission to fight against homelessness and the SBAC's mission to advocate for the small business community." said Elliot Richardson, SBAC president. "It is a historic campaign that brings stakeholders together."
FaceTrace, PinPoint Precision Engineering, Social Sparkling Wine, were among the small companies that lauded the SBAC for its work in advocating for small businesses and bringing the small business community together.
"The SBAC is working to move policies that will help small businesses through the pandemic, see a light at the end of the tunnel and thrive in the future. Our theme is that Rebuilding Starts Now." said Richardson.
The virtual fundraiser is still accepting donations to help rebuild lives and businesses here: https://www.smallbusinessadvocacycouncil.org/rebuilding-lives-and-businesses/
About A Safe Haven:
A Safe Haven Foundation is a 501(c)3 not for profit, social enterprise that helps people aspire, transform and sustain their lives as they transition from homelessness to self-sufficiency with pride and purpose. A Safe Haven provides the tools for each individual to overcome the root causes of homelessness through a holistic and scalable model. A Safe Haven's visible social and economic impact unites families, stabilizes neighborhoods, and creates vibrant, viable communities. For information, visit https://www.asafehaven.org.
About Small Business Advocacy Council:
Based in Chicago, the SBAC is a non-partisan, member-driven 501(c)(6) organization that promotes the success of small business through political advocacy, support services and educational programs.
SBAC believes in the following:
The success of small business is a critical component of the nation's economic well being
In order to ensure a fair and level playing field, small business must have a powerful and united advocacy voice at the local, state, and federal level
There has never been a more important time to support the small business community
For more information, visit https://www.sbacil.org/. ###