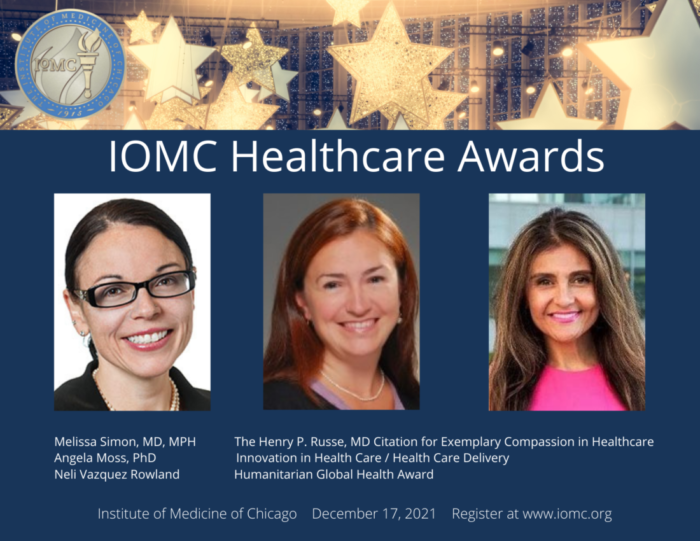 Chicago Institute of Medicine Bestows 2021 Humanitarian Global Health Award to Neli Vazquez Rowland, President & Co-Founder of A Safe Haven Foundation
FOR IMMEDIATE RELEASE   
Media Contact
Neli Vazquez Rowland, President
media@ASafeHaven.org
(Chicago, Illinois) December 15, 2021 — The Chicago Institute of Medicine (IOMC) honored Neli Vazquez Rowland, President & Co-founder of A Safe Haven Foundation, (ASHF), an internationally acclaimed top Chicago-based 501©3 nonprofit dedicated to preventing and ending homelessness, with the IOMC Humanitarian Global Health Award at the State of Health Chicago Leadership Summit and virtual ceremony on Friday, December 17, 2021.
This year the honorees were chosen for their exceptional commitment to healthcare innovation and long-standing humanitarian efforts including their response to the COVID-19 Pandemic on behalf of the most vulnerable populations.
ASHF has been frequently lauded as the pioneering architect and an anchor organization serving and meeting the needs of Chicago's homeless since 1994. ASHF's integrated network of behavioral healthcare, social, economic, and phased housing which includes transitional, supportive, workforce, affordable, senior, and veteran housing programs is headquartered in one of Chicago's most poverty-stricken communities known as the North Lawndale community. Since its inception, ASH has served over 130,000 homeless people including adults, youth, families with children, and military veterans.
Most recently, under her leadership, ASHF also led the effort to open up a COVID-19 Medical Respite Isolation Space for the COVID-19 positively diagnosed unsheltered and doubled up populations in partnership with RUSH Medical Healthcare Systems and the Chicago Department of Public Health.  The COVID-19 Medical Respite opened a 100-bed space on April 11, 2020. It has since been a resource for over 900 Covid-19 positive individuals. Remarkably, due to the team's commitment to quality of care and exceptional services the ASH COVID-19 Medical Respite has no reported deaths from COVID-19, thus far. In addition, the time in the COVID-19 Medical Respite has allowed ASH teams to fully assess the individual's social determinants of care leading many formerly homeless individuals and families to be discharged appropriate levels of care and services that have helped them break the cycle of homelessness, with jobs and permanent housing.
"As a Latina, who grew up in an 'at risk' community, I understand firsthand the challenges people face in gaining access to the type of services and resources they need to realize their fullest potential. The pandemic has exposed the gaps in the systems that hit our most marginalized populations the hardest. It has made an already rapidly growing humanitarian issue, worse. I am grateful to IOMC Chief Executive Officer Dr. Cheryl Whitaker and the entire Board for recognizing our efforts with this generous and prestigious award. I feel truly humbled and blessed to be receiving this award on behalf of our team at ASHF. Most of all, I hope that the exposure it brings to our mission helps to elevate the issue of homelessness as a serious public health issue that requires an urgent and strategic public-private partnership response and meaningful support.  May our example of success in providing a comprehensive approach, holistic model and collaborative partnerships help inform more stakeholders and influence a paradigm shift in the way our nation addresses and invests providing better standards of care and in building and scaling a better delivery system that leads to repeatable and sustainable solutions.  Our vision is to continue to raise more awareness and to expand our footprint wherever we are needed to heal complex root causes and prevent, address and end poverty and homelessness in the future consistently and holistically. I also congratulate and am proud to be honored among my fellow honorees and colleagues Dr. Angela Moss and Dr. Melissa Simon." said Neli Vazquez Rowland
About A Safe Haven:
A Safe Haven Foundation is a 501(c) 3 not for profit, social enterprise that helps people aspire, transform and sustain their lives as they transition from homelessness to self-sufficiency with pride and purpose. A Safe Haven provides the tools for each individual to overcome the root causes of homelessness through a holistic and scalable model. A Safe Haven's visible social and economic impact unites families, stabilizes neighborhoods, and creates vibrant, viable communities. For information,
visit https://www.asafehaven.org. ###