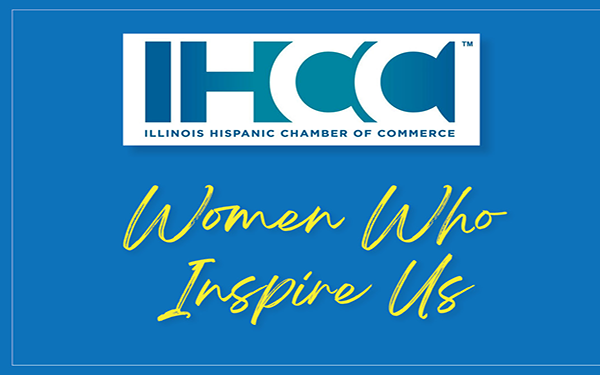 Illinois Hispanic Chamber of Commerce Honors A Safe Haven Founder Neli Vazquez Rowland
Illinois Hispanic Chamber of Commerce Honors A Safe Haven Founder Neli Vazquez Rowland as a "Woman Who Inspires" during 2021 National Women's History Month
(Chicago, IL)—April 9, 2021—Neli Vazquez Rowland, founder of Chicago-based A Safe Haven (ASH), an internationally acclaimed top Chicago-based 501©3 nonprofit dedicated to preventing and ending homelessness, was among the 30 inspirational and dedicated business women from the State of Illinois who were honored during National Women's History Month in March as a "Woman Who Inspires" by the Illinois Hispanic Chamber of Commerce (IHCC).
"Vazquez Rowland is the pioneering architect of one of the most successful models dedicated to addressing and solving poverty and homelessness for people from all walks of life. She has a diverse background in finance, general contracting, social and economic development, along with extensive experience as a public servant, author and public speaker." Jaime DePaolo, President of IHCC
"As a longtime member of the IHCC I am incredibly honored for the recognition. Thank you to Jaime De Paolo (president and CEO of IHCC) and everyone at Illinois Hispanic Chamber of Commerce for naming me as one of the "Woman Who Inspire" during International Women's month. I am truly humbled and honored to be named among so many wonderful women highlighted this month," Vazquez Rowland said.
Vazquez Rowland was honored due to her work with ASH, which she founded in 1994. The award-winning, social and economic development model helps to rebuild lives impacted by poverty, substance abuse, prison reentry and homelessness with a holistic, integrated, and individualized case management approach. Multi-disciplinary services include opioid or heroin addiction treatment, education, healthcare, job training/placement, and supportive and affordable housing real estate development.
ASH, through its network of public-private partnerships and social enterprises, has been dedicated to ending poverty and homelessness. Since its inception, more than 130,000 people have relied on ASH's unique, individualized and fully integrated approach for its services, opportunities and resources so that they can live sustainable and self-sufficient lives.
Vazquez Rowland has garnered several awards and honors since establishing ASH and has been a long-time public and motivational speaker. She is also the author of the book, "Healing: Real Stories Told By People Who Have Overcome the Homeless and Opioid Epidemics," which debuted in March and is available on Amazon.
About IHCC
IHCC was originally called the Mexican American Chamber of Commerce of Illinois, which was founded in 1990. By 2002, the group transitioned into the wide-reaching IHCC. Today, it includes business owners, entrepreneurs and other professionals who help people start and grow their businesses.