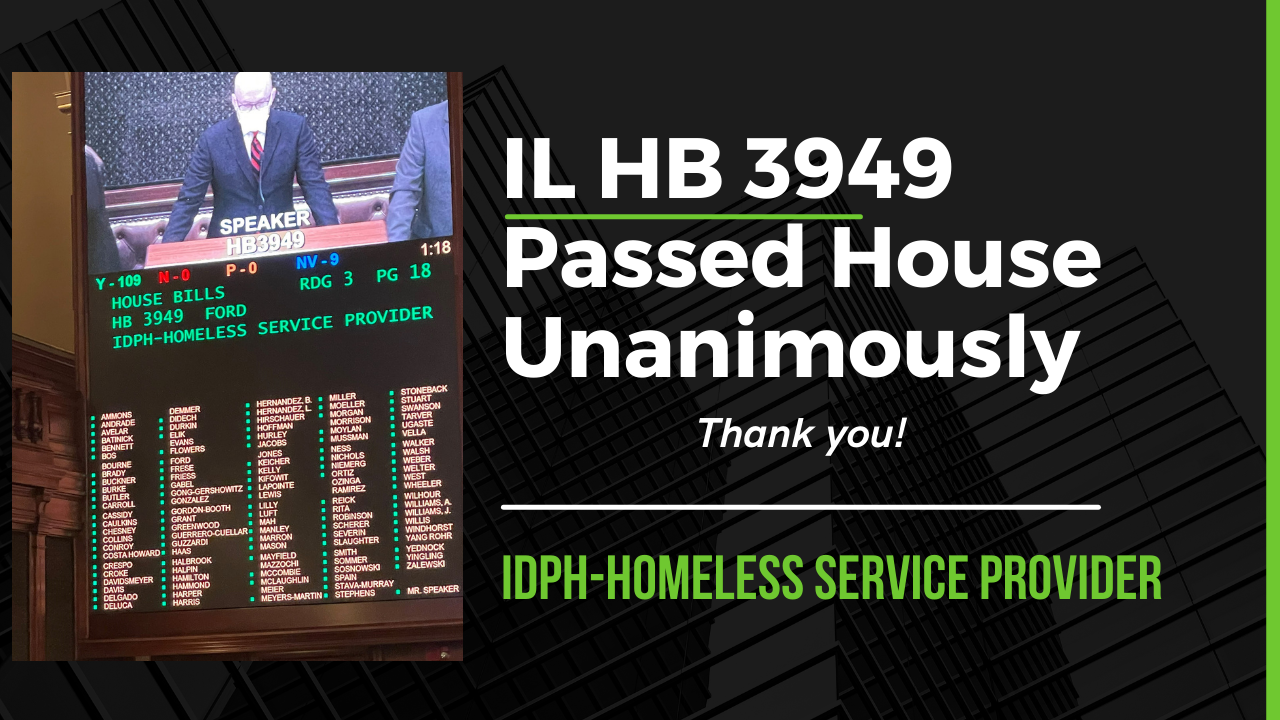 House Bill 3949 WINS Unanimous Legislative Support To Help Elevate Homeless Providers to Become a Part of the 'Public Health" Critical Infrastructure
FOR IMMEDIATE RELEASE:
CONTACT: Neli Vazquez Rowland, President
media@ASafeHaven.org
Chicago, IL, February 23, 2022 – House Bill 3949 – Homeless provider front line organizations have received Unanimous support from State of Illinois House Members to be included as part of the essential part of the State's public health critical infrastructure the Bill now goes to the Senate. The Bill was primarily sponsored by State Representative LaShawn Ford and co-sponsored by Barbara Hernandez, Will Guzzardi, Debbie Meyers Martin, Kelly Cassidy, and Theresa Mah. HB 3949 now goes to the Senate with Senator Tony Munoz, serving as primary sponsor in the Senate. It was also supported by over 60 proponents, including healthcare, behavioral healthcare, and homeless associations, leaders, workers, and allies in the field, and had zero opposition.
The State of Illinois public health system currently includes hospitals, healthcare, and nursing home organizations serving our sick and senior vulnerable populations. This designation qualified them to receive almost exclusive and priority support for funding, protective personal equipment, and vaccines to respond to the pandemic. Passing bill HB 3949 will help elevate homeless providers and front-line workers to qualify and be prioritized for emergency resources along with other public health organizations previously mentioned in the future.
"The pandemic has exposed the many service gaps in the healthcare and behavioral healthcare delivery system. It specifically puts an extraordinary burden on homeless providers, as COVID-19 has exacerbated the underlying issues of homelessness. Because of COVID-19, the responsibilities, financial costs, and health risks for homeless organizations have risen while demand for emergency housing, food, behavioral healthcare, and mental health services, job training, job placement, and permanent housing services has also risen and funding has not kept up, putting homeless organizations in a very difficult situation. The Federal emergency resources allocated to the State have not included homeless programs for priority consideration to ensure the financial stability, health, and safety of front-line workers working at homeless organizations. This landmark legislation will help add homeless providers to the official public health critical infrastructure and will help Illinois become the first State in the Country to recognize the role homeless providers and front-line workers play in the community to ensure housing, the social and economic stability of our most vulnerable residents. A Safe Haven Foundation has been at the forefront, of this issue, innovating and providing real solutions before and during the pandemic, and is poised to immediately assist in its successful implementation in the future. Special thanks to State Representatives Lashawn Ford, Barbara Hernandez, Theresa Mah, Kelly Cassidy, Debbie Meyers-Martin, and Will Guzzardi for signing up to help sponsor and to all of our esteemed elected leaders who voted for this game-changing Bill as another major step to redefining, addressing and solving homelessness as a public health issue." Neli Vazquez Rowland, President, and Co-founder A Safe Haven Foundation, author of Bill HB 3949.
To read the full HB 3949 Summary and to follow the status of this Bill in the Senate, please visit: IL HB 3949