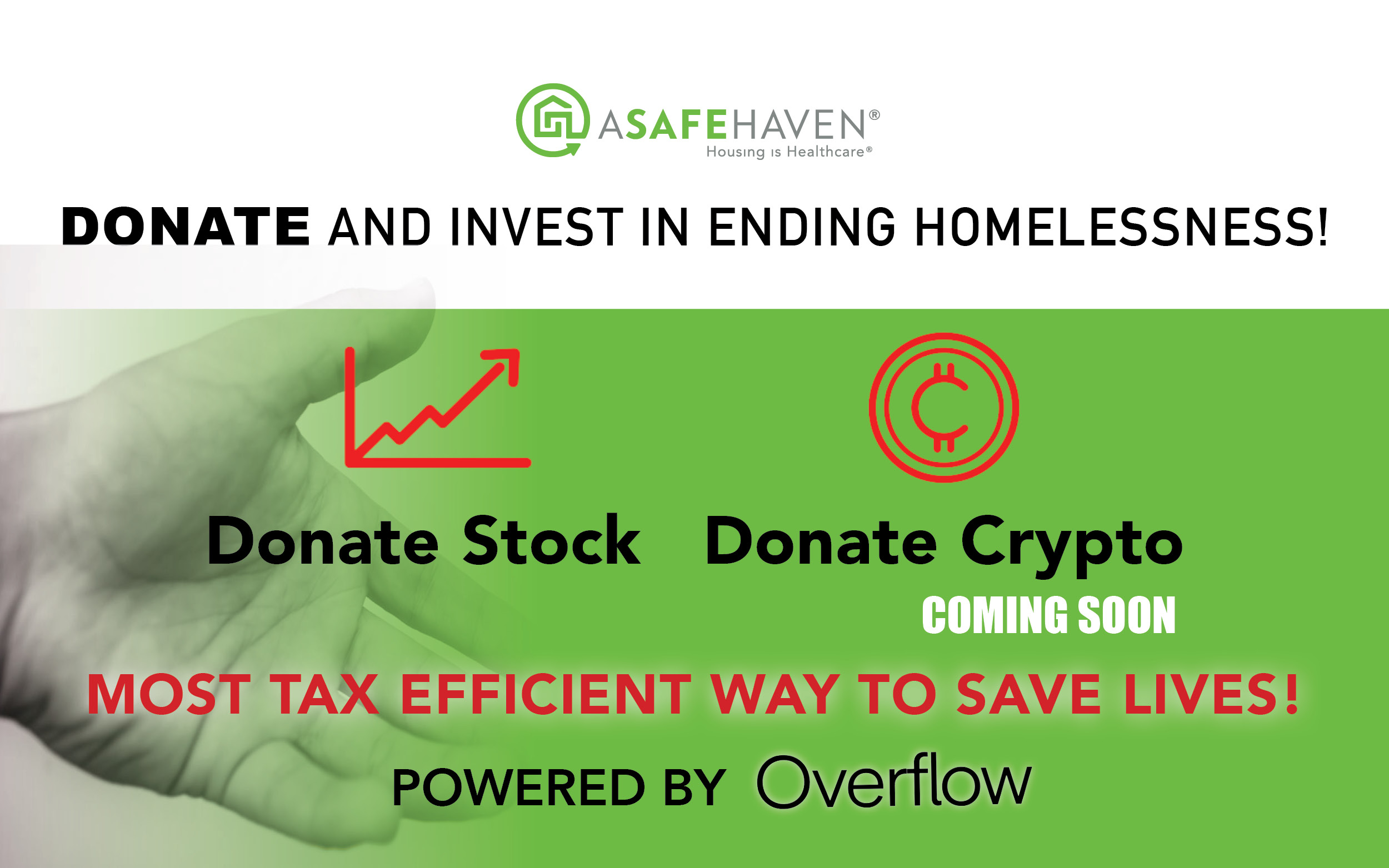 Chicago Nonprofit A Safe Haven Announces New Option for Supporters to Donate Stock
For Immediate Release:
Media Contact
Neli Vazquez Rowland
Media@ASafeHaven.org
(Chicago, Illinois) October 14, 2021— A Safe Haven, (ASH), an internationally acclaimed top Chicago-based 501©3 nonprofit dedicated to building one of the nation's most vertically integrated social, economic, and housing development model designed to rebuild lives, announces that it has a frictionless solution for donating publicly-traded stock to our organization via an online process. 
Overflow is a digital solution for donating non-cash assets, enabling donors to give in the most tax-efficient way. Donors can experience the ease of giving via stock in less than 5 minutes from their mobile device. In short, Overflow is the philanthropy platform for today–pairing modern technology with an uncomplicated approach to giving. 
"We are grateful for our donors' continuous support of ASH and we have found that this is another way for them to make larger donations to ensure that ASH can continue to fund its important services to those who are the most vulnerable," said ASH's President and Co-Founder Neli Vazquez Rowland. "It takes a few, simple steps all from the convenience and safety of home which is important as we are still experiencing the COVID-19 pandemic. A Safe Haven Foundation depends on the generosity of all our donors and partners to help us end homelessness. We are doing our best to pave the way and making it easier for everyone to support the cause." 
Donating appreciated stock is the most tax-efficient way to give. Stock donations can bring you substantial tax benefits if you've held the stock for more than a year and plan to claim itemized deductions. Giving stock directly to nonprofits can help you avoid paying a capital gains tax and make a bigger donation. To learn more about the benefits of donating stock here.  
Visitors can go to A Safe Haven's Overflow portal to securely connect to their brokerages and select the shares they want to give. In the end, donors receive documentation for their charitable tax deductions. 
Located in Chicago, ASH has been a pioneering architect and an anchor organization serving and meeting the needs of Chicago's homeless since 1994. Neli Vazquez Rowland and Brian Rowland serves as the nonprofit's co-founders. ASH's integrated network of behavioral healthcare, education, job training, social enterprises and phased housing programs is headquartered in one of Chicago's most poverty-stricken communities known as the North Lawndale community. ASH houses and feeds three healthy nutritious meals to over 5,000 homeless people including adults, youth, families with children and military veterans, annually.