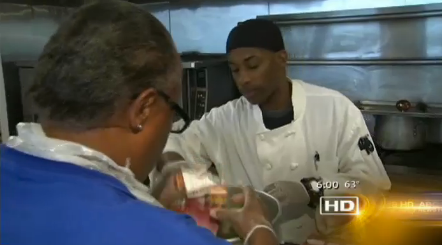 Chicago charities help people living in poverty
September 16, 2010 (CHICAGO) (WLS) — The need for help keeps growing. More people in America are now living in poverty. According to the Census bureau, it's the most people in poverty since 1994.
The report covers 2009. According to the Census bureau, a little more than 14 percent of Americans are now living in poverty. That's 43.6 million people, or one-in-seven Americans.
ABC 7's Theresa Gutierrez looks at the problem of poverty in Chicago.
On Chicago's West Side, "A Safe Haven" provides meals and housing for those in need. A young single mother of four — who does not want to be identified because of the stigma attached to homelessness — lost her job and was living on the streets a week ago.
"I was living in my car with my children until I came here, and now I have hope," the mother said. "They made it easy for me to come here with my children."
"There are millions of people out there one check away from being homeless themselves," said Neli Vasquez-Rowland, president of A Safe Haven.
"A Safe Haven" is a shelter and also an education and training for individuals who are homeless or in jeopardy of becoming homeless.
The single mother in her 20s will be able to live here in dignity in a private room with her children until she gets the training to be on her own.
Forty-four-year-old Linda Susan Venia just moved to Chicago from Michigan with her 10-year-old son to look for work and shelter and was fortunate to find a home at A Safe Haven for her son Mike.
"From here, we are hoping we can get back on track and find housing," said Venia. "When we come here, it is not by choice, it is life and just a dark chapter."
Marshall Galbreath, a veteran, lived on the streets. He finally found shelter at A Safe Haven and was trained in the kitchen. Galbreath now works as a cook at A Safe Haven and lives on his own.
"A lot of vets who are homeless — I got into drugs and bad choices," said Galbreath.
"We are having record numbers of people coming to our programs," said Vasquez-Rowland. "What we have is a challenge of funding issues."
Neli Vasquez-Rowland of A Safe Haven says that, if the state continues to delay their payments and they continue to lose funding along with other organizations, the poverty and homeless situation in this country is going to increase. She feels this Census is just a wake-up call to this nation and that is time to take a hard look at the people who are living in poverty and the effect it has on all of us.
Chicago charities help people living in poverty