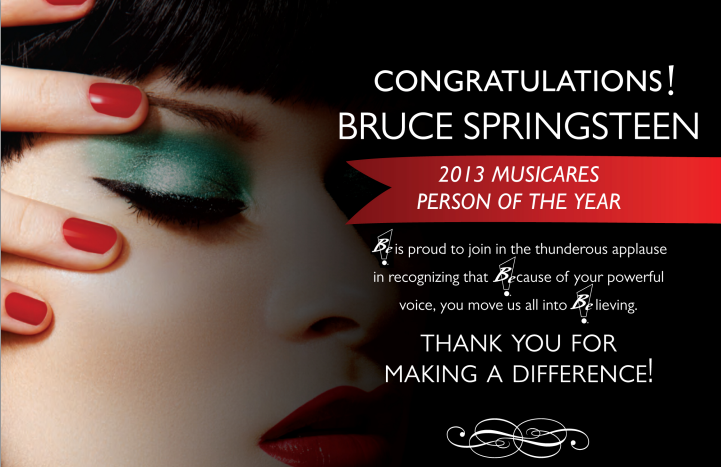 Be! Products as 'Exclusive' Nail Lacquer Swag at 55th GRAMMYS® VIP EVENT
 55th GRAMMYS® VIP EVENT 'MUSICARES' HONORING BRUCE SPRINGSTEEN
Featuring Be! Products as 'Exclusive' Nail Lacquer Swag!
Media Contact:  Monica White info@BeProducts.com
February 5th, 2013 Chicago, IL: Be! Products Nail Lacquers are being featured as the exclusive nail care line in the coveted 'SWAG Bag' for the GRAMMYS® most prestigious and philanthropic event, MusiCares honoring Bruce Springsteen on Friday, February 8th, 2013.
Bruce Springsteen will be honored as MusiCares Person of the Year during GRAMMYS® week with a tribute event featuring performances by some of the biggest names in music, including Elton John, Mumford & Sons and Kenny Chesney. The event will be hosted by Jon Stewart.
The annual event — now in its 23rd year — celebrates a star's artistic accomplishments as well as their philanthropic work. Previous honorees include Bono, Tony Bennett, Aretha Franklin and last year's man of the hour, Paul McCartney.
Other announced performers include Alabama Shakes, Jackson Browne, Ben Harper, Emmylou Harris, Faith Hill, Jim James, Juanes, John Legend, Natalie Maines, Tim McGraw, Tom Morello, Patti Smith and Mavis Staples.
"I am thrilled that Be! will help honor the most philanthropic artist of the Year at the GRAMMYS® and that Be! will do it's part to help them all shine!  As a social business enterprise, Be! is not only a beautiful nail care line but it is also about making a difference and sustainable impact by creating jobs and employing women and men in crisis from poverty and homelessness. The women working on this project at Be! are absolutely thrilled and empowered to be a part of this big event, and it gave them tremendous pride and purpose. Considering that Bruce Springsteen has a long tradition of using his powerful voice on these same issues, he shows that anyone can make a difference by combining their work with charity," said Neli Vazquez-Rowland, President of Be! Products.
About GRAMMYS®MusiCares GRAMMYS® MusiCares provides a safety net of critical assistance for music people in times of need. MusiCares also focuses the resources and attention of the music industry on human service issues that directly impact the health and welfare of the music community. www.MusiCares.net
About Be! Products
Be! Products is a world class and award winning line of professional line of nail care products, including 2Be! Nail Strengtheners.  Be! Products are sold internationally and to spa's or salons and or online.  Please note: Due to temporary expansion of Chicago based operations. Be! Products is not currently available to the public.  www.BeProducts.com
Interviews and photos available upon request.