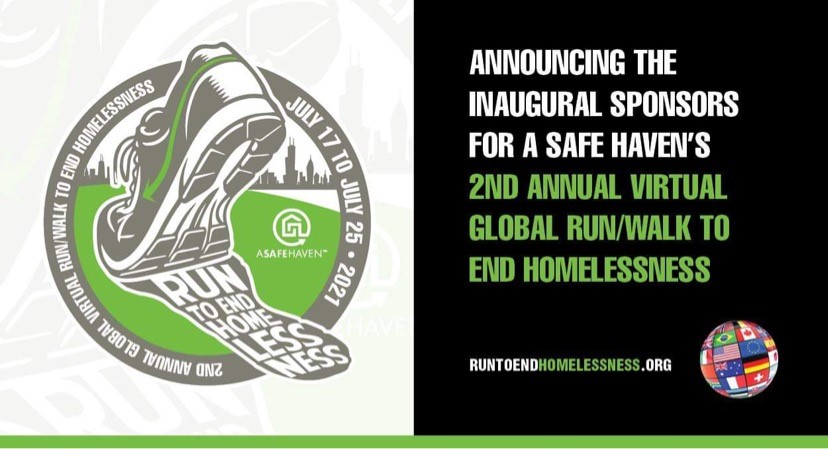 ASH Run Walk 2021 INAUGURAL Sponsors
ANNOUNCING THE INAUGURAL SPONSORS FOR A SAFE HAVEN'S
2ND ANNUAL VIRTUAL GLOBAL RUN/WALK TO END HOMELESSNESS
(Chicago, IL)—April 19, 2021—A Safe Haven, an internationally acclaimed top Chicago-based 501©3 nonprofit dedicated to preventing and ending homelessness, is proud to announce this year's first sponsors for the 2nd Annual Global Virtual Run Walk to End Homelessness which runs from Saturday, July 17 to Sunday, July 25. More sponsors are pending, and the list is still in formation.
"This is just the first round of sponsors and we are actively working with others and inviting more corporate sponsors to sign up for this worthy event," said Neli Vazquez Rowland, founder of Chicago-based A Safe Haven. "While the Run Walk has been very popular locally since it started 11 years ago, it has become even more popular in a virtual, safe setting that started last year due to the pandemic."
The 2021 sponsors to date include: Top Media: ABC7 Chicago, Comcast NBCUniversal, iHeartRadio; Silver: Busy Bank, Cinespace Chicago Film Studios, Gnade Insurance, Tandem HR, and West Bend; Bronze: Applegate & Thorne-Thompsen, Cabrera Capital, FGMK, Mathematica Policy Research, Rotary/One Foundation and Rush University Medical Center; Community Partners: 93.9, CHHRGE, Illinois Chamber of Commerce, NegociosNow, and Small Business Advocacy Council; Kid Zone: CohnReznick, Cristina Foods Inc., Enterprise Fleet Management, Michael V. Favia Law Firm, NAV Fund Administration, PNC and Waubonsee Community College.
The event is a great way for the business community and the public to show its support and sponsor and/or sign up to be a part of the run/walk to help raise awareness and support for the urgent issue of mental and behavioral health, homelessness and poverty.
Tens of thousands of people have participated in this highly anticipated annual Run/Walk to End Homelessness since 2010. Due to the COVID-19 pandemic, the former live event pivoted into the virtual Global Run/Walk to End Homelessness in 2020 and again this year.
All proceeds go directly to feed and house an average of 5,000 homeless people, including reentry, women and children, youth and military veteran populations, residing at A Safe Haven Foundation.
Participants can register to run or walk a 5k, 10k, ½ marathon and a marathon and accomplish their running and walking goals. During the week of July 17th – July 15th, participants can start and finish their race anytime and wherever they want. They can choose to run or walk alone or with co-workers, friends and family, while at their favorite vacation destination or start right outside their own front door.
All registered runners and walkers can sign up to receive a commemorative T-shirt and facemask gaiter. Participants who fundraise $500 or more will also get a copy of the A Safe Haven just released book called "Healing': Real Stories Told By People Who Have Overcome the Homeless and Opioid Epidemics".
Registration is open to participate or to donate or sponsor a runner/walker to support the event at www.RunToEndHomelessness.org.
Due to the COVID-19 pandemic, A Safe Haven is seeing a surge in demand for food, housing and services. Thousands of people that were living paycheck to paycheck, have lost jobs, their homes and many essential workers have been infected by COVID-19 and need a place to isolate and get access to health and behavioral healthcare services.
ASH has been a pioneering architect and an anchor organization serving and meeting the needs of Chicago's homeless since 1994. Their integrated network of behavioral healthcare, education, job training, social enterprises and phased housing programs is headquartered in one of Chicago's most poverty-stricken communities known as the North Lawndale community. ASH houses and feeds three healthy nutritious meals to over 5,000 homeless people including adults, youth, families with children and military veterans, annually.
For sponsorship information, email sponsor@ASafeHaven.org or call Angela Lathen at 773-435-8374 or visit: www.RunToEndHomelessness.org. Sponsorship levels start at $1,000.