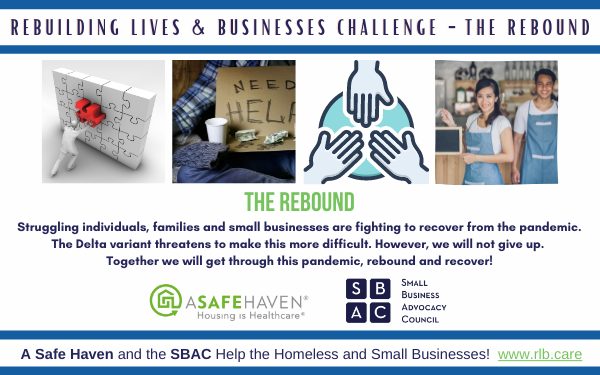 A Safe Haven Partners with Small Business Advocacy Council to Launch The Rebound Challenge
For more information, contact:
Neli Vazquez Rowland
media@asafehaven.org
(Chicago, Illinois) Sept. 24, 2021—A Safe Haven (ASH) a top Chicago anchor organization serving the homeless, is once again partnering with the Small Business Advocacy Council (SBAC) to launch The Rebound Challenge, a virtual fundraising campaign.
ASH President and Co-Founder Neli Vazquez Rowland said that this challenge is a continuation of last year's partnership with SBAC called "Rebuilding Lives and Businesses." The mission was to support the urgent needs of Illinois' homeless population, essential workforce, and small businesses—all of which have been hit hardest by the COVID-19 pandemic.
"Our efforts produced excellent results," she said. "Thanks to support from the public and other organizations, SBAC advocated for small businesses and provided that community a voice in government decisions to allocate federal emergency resources.. The SBAC's efforts have helped many small businesses get the representation and information they need in a timely basis to stay in business. At the same time, ASH has helped over 1,800 formerly homeless individuals and others who lost their jobs due to the COVID-19 pandemic get access to job training and job placements including many jobs with small businesses. Our collective efforts have created a great win-win situation because, as we know, small businesses are the engines of the economy and at A Safe Haven we are proud to help many of them find qualified candidates that are ready and motivated to get back to work."
SBAC President Elliot Richardson expressed his appreciation for the opportunity to partner with ASH once again on this important fundraising challenge.
"I'm proud to partner with Neli on this fundraiser and we are laser-focused on rebounding from the pandemic," he stated. "The SBAC fights for policies that support small businesses. A Safe Haven helps homeless individuals get back on their feet. Small businesses create jobs, and A Safe Haven prepares its clients to work. Advocating for the small businesses that can create jobs and supporting homeless individuals so they can get back in the workforce will be crucial for a robust rebound from this pandemic."
Vazquez Rowland is asking the public to help in this fundraising challenge. Visit ASH's website to see the various sponsorship levels and benefits.
"Your support at any level will help A Safe Haven continue to provide crucial services to our homeless clients and power the SBAC's fight for small businesses and local communities," she said. "This innovative partnership truly prevents and ends the catastrophic consequences of the pandemic which include the domino effects of business closures, joblessness, poverty and homelessness. A healthy small business environment and workforce are the key to rebounding our state and local economy in the new normal and post-pandemic world."
About A Safe Haven:
A Safe Haven Foundation is a 501(c) 3 not for profit, social enterprise that helps people aspire, transform and sustain their lives as they transition from homelessness to self-sufficiency with pride and purpose. A Safe Haven provides the tools for each individual to overcome the root causes of homelessness through a holistic and scalable model. A Safe Haven's visible social and economic impact unites families, stabilizes neighborhoods, and creates vibrant, viable communities. For information, visit https://www.asafehaven.org.
About Small Business Advocacy Council:
Based in Chicago, the SBAC is a non-partisan, member-driven 501(c)(6) organization that promotes the success of small business through political advocacy, support services and educational programs.
SBAC believes in the following:
The success of small businesses is a critical component of the nation's economic well being
In order to ensure a fair and level playing field, small businesses must have a powerful and united advocacy voice at the local, state, and federal level
There has never been a more important time to support the small business community
For more information, visit https://www.sbacil.org/.