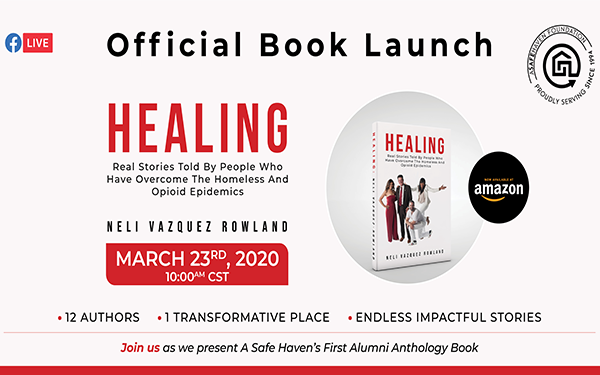 A Safe Haven Launches Inaugural Book Called "Healing"

A Safe Haven Launches Inaugural Book Called "Healing"
An Anthology of Inspiring Testimonials by 12 Alums Who Overcame the Homeless and Opioid Epidemics
Chicago, IL) March 23, 2021— A Safe Haven (ASH) President and Co-Founder Neli Vazquez Rowland officially launched its inaugural anthology book called "Healing: Real Stories Told by Real People Who Have Overcome The Homeless and Opioid Epidemics." The book is available for purchase on Amazon.
"Healing" features the powerful and detailed testimonials of 12 people who lived in the shadows of society, suffered and endured often decades of living in the depths of despair and homelessness caused from the devastating and debilitating effects of alcoholism, drug abuse, physical and emotional abuse. They also describe how they found hope to positively change their lives at ASH. For the first time ever, readers will get a dramatic behind the scenes look into the lives of the contributing authors and success stories: Sheresse Winford, Heather Brahos, Hope Larkin, Daniel Rubin, Wilbert Lee, Alejandra Cano, Belinda McKinley, Angalia Bianca, Karen Leato, Marshall Galbreath, Nikelcia Marcelin and Robert Hovey.
Since 1994, ASH, a Chicago based organization and their network public private partnerships and social enterprises has been dedicated to ending poverty and homelessness. Since its inception over 130,000 people have relied on ASH's unique, individualized and fully integrated approach for its services, opportunities and resources so that they can live sustainable and self-sufficient lives
Some of them came to ASH willingly through word-of-mouth referrals others through government agencies like the criminal justice systems and drug court systems mandating them to ASH programs. Today they are all inspiring living examples of what's possible as they are pursuing their dreams of recovery, family reunification, independence and living in mainstream society.
The nonprofit's vision and mission is supported by a multi-disciplinary team of professionals who are deeply committed to working together to help those in crisis while helping influence a paradigm shift in how our nation addresses poverty, homelessness, addiction and incarceration. ASH's leadership credits its like-minded public and private partners and their team for aligning their visions and missions to create a nationally recognized model to help break the cycle of homelessness.
Rowland believes that "while there are many approaches to helping the homeless, it's good to know that our model of investing in a customized, holistic, fully-developed and comprehensive system that is focused on healing the complex issues of our most vulnerable people is transforming the lives of thousands every year, including women, children, youth and military veterans. ASH's leadership team is committed to putting the people, who often have significant barriers to employment, on a path to their highest level of independence, by either employing them in our social enterprises and/or opening doors for them for jobs and permanent housing. The work that we do is rewarding and the payoff for all stakeholders is priceless!"
These authors' powerful stories that give witness to the services that ASH provides to its clients every day.
All proceeds go directly to help feed and house an average of 5,000 homeless people including reentry, women and children, youth and military veteran populations residing at A Safe Haven Foundation.
The nonprofit also invites the public to help end homelessness by participating in its second annual Global Virtual RUN Walk To End Homelessness from July 17 to July 25. Participants will be able to register to run or walk a 5k, 10k, ½ marathon and a Marathon and accomplish their running and walking goals during that week. To sponsor, register or donate to support the cause, please visit runtoendhomelessness.org.