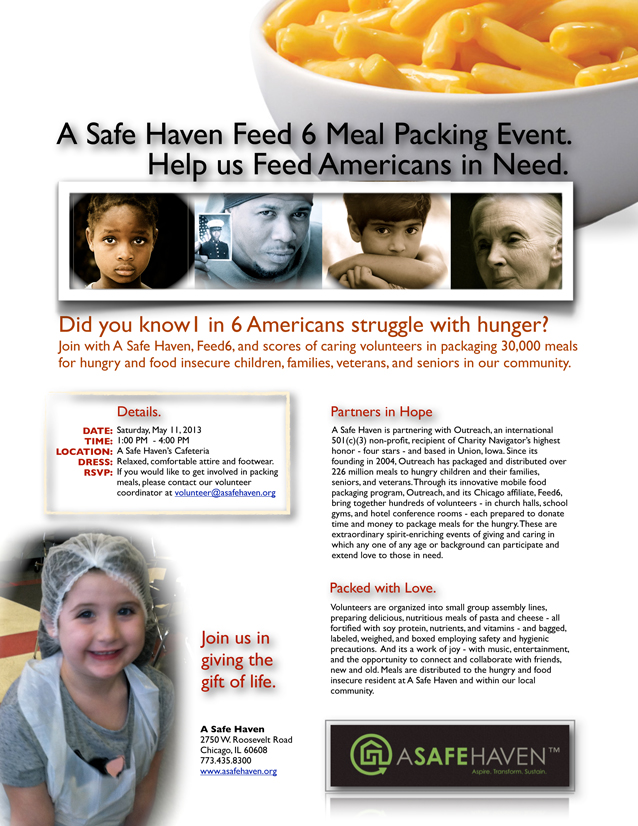 A Safe Haven Foundation & Feed6 Partner to Pack 30,000 meals this Mother's Day Weekend for Hungry Families
 May 10, 2013, Chicago, IL—This Mother's Day weekend, A Safe Haven Foundation is partnering with Feed 6, a hunger relief organization, to package 30,000 meals for hungry and food insecure children, families, veterans and seniors in the Chicagoland area. Over 150 volunteers will package nutritional meals fortified with soy and vitamins on Saturday, May 11 from 1-4PM at A Safe Haven's main headquarters, located at 2750 W. RooseveltRoad, Chicago.
"We've been working with Brian and Neli for a while, [but] this is the first event that we are co-hosting," says Chris Coyne, Regional Manager of Outreach, Feed6's sister organization. "We've been so inspired by the work of Brian, Neli and their team supporting hungry, homeless people in Chicago. They have an extraordinary reputation; they help people reintegrate into mainstream society with compassion and intelligence."
In Cook County, 1 in 6 individuals are food insecure, not knowing where or when their next meal will be. For the past year, Feed 6 has donated thousands of meals to A Safe Haven Foundation's residents and surrounding community members. A Safe Haven Foundation runs a weekly community food pantry, which served over 22,000 families living in food deserts last year.
"This event makes it easy for people in the community to come out and engage in a meaningful, hands-on way," said Neli Vazquez-Rowland, co-founder and President of A Safe Haven Foundation. "I think everyone involved in the event will have fun and see that they are truly making a difference."
A Safe Haven emphasizes hunger relief, nutrition, and food access by maintaining two organic gardens, teaching basic nutrition courses to residents, providing residents with three healthy meals a day, and training clients in culinary arts and food service resulting in professional certifications and employment in the industry. As a F.I.T. city certified establishment, A Safe Haven's culinary arts training program offers Fresh, Innovative, and Tasty menu options to interim housing residents. Feed6 is donating 5,000 of the meals, while A Safe haven is donating 25,000 meals. A Safe Haven and Feed6 are accepting donations of $25 or more: www.runtoendhomelessness.org/feed6.
"It's a very transformational experience," says Coyne. "It's a very hands-on way of expressing care and love for others. A Safe Haven is a wonderful place [to host the event]; there's such a heart for giving. It feels so right making meals there, not just for residents, but [for the] community."
###
For more information on A Safe Haven and programs available for the homeless, underserved, and food insecure, visit www.asafehaven.org
Feed 6 collaborates with Outreach, a non-profit organization, which packages and delivers tens of million of meals to the hungry in the US and around the world annually.  For more information, visit http://www.feed6.org/