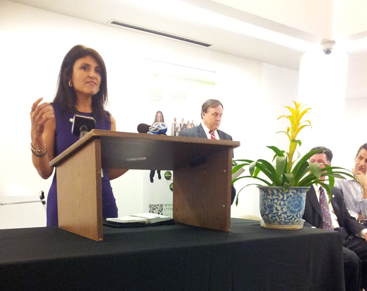 A Safe Haven Foundation Announces $100,000 National Presenting Sponsors for 3rd Annual 5K RUN! To End Homelessness in Chicago

The Liberty Family Foundation of Gray, Maine and Mozido® LLC, an international cloud-based mobile financial services provider with domestic offices in Austin, Texas and New York, New York, agreed to act as National Presenting Sponsors for A Safe Haven's 3rd annual fundraising 5K RUN! To End Homelessness and have committed to fund potentially the largest cash prizes ever given to the male and female runners who break the US or World Record for fastest time in the 5K race and also to fund multiple cash prizes to other category winners for 2nd through 5th place finishes.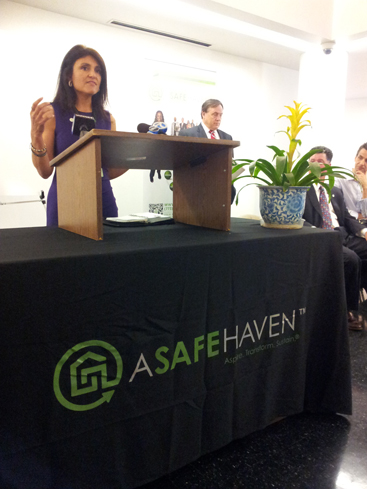 Chicago, IL June 14, 2013—A Safe Haven Foundation announced the National Presenting Sponsors for its 3rd Annual 5k RUN! To End Homelessness in Chicago this afternoon. Neli Vazquez-Rowland, foundation Co-Founder and President,  made a major announcement of National Presenting Sponsors for the 3rd Annual 5K RUN! To End Homelessness benefiting A Safe Haven. Dr. Stanley R. Liberty and Richard Liberty, Directors of The Liberty Family Foundation, Dr. Raul Hinojosa representing Mozido attended the event and Dr. Alexander  "Sandy" Tennant was the moderator.
The Liberty Family Foundation and Mozido offered $100,000  in prize money, in kind-donations, and services,  to A Safe Haven on behalf of its 3rd Annual 5k RUN! To End Homelessness. The sponsors offered $10,000, respectively, to the male and female world record-setter for a 5K race and $6,000 to any U.S. record-setter. This is the largest cash prize ever given to the male and female record-setting winner of a 5K race. Between $11,000 and $25,000 of cash prizes will be given out that day for the fastest ten runners of the 5k race.
Mozido announced an innovative and financial strategy that will help graduates of A Safe Haven restore and rebuild credit. These are two major obstacles for people transitioning from homelessness to self-sufficiency.
"It's a tremendous opportunity," says Raul Hinojosa of Mozido. "[A Safe Haven] graduates will receive an ID-debit card with a $100 donation, upon activation by Mozido which could potentially lead to more than $25,000 in additional contributions to A Safe Haven.  This partnership will simultaneously create jobs, educate individuals about financial literacy, and create opportunities for people to re-build their credit."
The Liberty Family Foundation mission is to enrich lives globally through servant leadership and one of Mozido's missions is to offer compelling, low-cost, user-friendly, and rewarding, financial services to the disenfranchised and the unbanked.  Both organizations recognize A Safe Haven as one of the top social entrepreneurial programs in America, which is enriching the lives of homeless Chicagoans and that is in alignment with both of their missions of alleviating poverty and homelessness in a sustainable manor.
"We take [having an ID] for granted," says Neli Vazquez-Rowland, president and co-founder of A Safe Haven Foundation. "If you haven't had one and you can't get one, it's like you're almost not apart of society. This is going to legitimize them; this is an incredible model that we're creating here called Link, Leverage and Align™ that demonstrates how public, private and non-profits can partner in a way that effects transformation and creates sustainable metrics."
The Sponsorships are part of a broader Link, Leverage and Align™ (LLA) partnership with A Safe Haven Foundation. Link, Leverage and Align™ is a campaign that helps businesses engage on many fronts to combat homelessness by utilizing both charitable and business strategies. At year end, A Safe Haven provides unique performance metrics and impact reports to their LLA partner that quantifies all giving and business activities.
"[A Safe Haven] was introduced to us, and quite frankly, we're blown away," says Rick Liberty of Liberty Family Foundation. "What this program represents is closely aligned to how we wish to proceed enriching lives globally through servant leadership … Combining the non-profit, the philanthropic world with the profit, with resources from tax payers is an efficient combination of the future. We have to do it. This is a tremendous opportunity to collaborate."
"The alignment of interests between A Safe Haven, The Liberty Foundation, and Mozido is going to result in many of the residents' of A Safe Haven getting credit and identification, a debit card, cash, and a potential job. The residual income that will be developed from this partnership will be very substantial and help continue to fund A Safe Haven far into the future." Stated Dr. Alexander "Sandy" Tennant , Advisor to both A Safe Haven and Mozido.
Together, The Liberty Family Foundation and Mozido plan to make a difference in Chicago, nationally and, ultimately worldwide. Teams of runners are forming from around the country to participate in this event and support the cause.