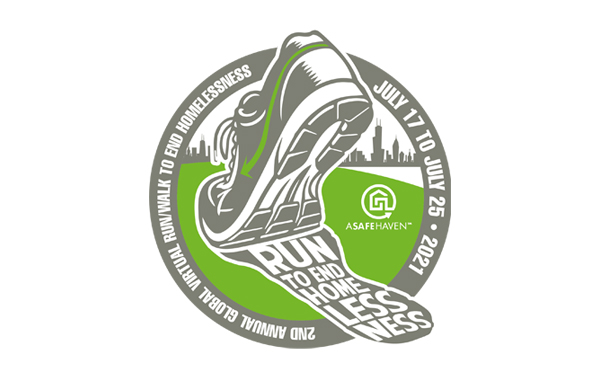 A Safe Haven Announces 10 DAY COUNTDOWN for the 2021 2nd Annual Virtual Global Run/Walk to End Homelessness
(Chicago, Illinois—July 6, 2021)—With 10 days to go, A Safe Haven (ASH), an internationally acclaimed top Chicago-based 501©3 nonprofit dedicated to preventing and ending homelessness, is accepting registrations for all last-minute participants for the upcoming 2nd Annual Virtual Global Run/Walk To End Homelessness scheduled for July 17 to July 25.
As the pandemic fears and rent moratorium restrictions subside, the aftermath of the pandemic is becoming more visible as Chicago's leading homeless organization continues to see a rising demand for services.  Experienced or first time runners and walkers are stepping up and registering to participate at levels of their choice including a 5k, 10k, half-marathon and marathon distances to accomplish their combined goals to go outside and get some exercise, and to raise awareness and support for the urgent public health issue of homelessness during that week.
All proceeds go directly to feed and house an average of 5,000 homeless people, including reentry, women and children, youth and military veteran populations, residing at A Safe Haven Foundation.
This event marks the 11th anniversary of hosting this event that was previously produced live and turned into a virtual event last year due to the pandemic.
"As an avid runner, I am so excited to have the opportunity to invite others locally and from around the world to align our efforts and passions to both promote exercise as a great way to get mentally and physically fit and at the same time raise more awareness and support to help people in crisis get the help they need to get back own two feet through this super fun and impactful event" said ASH President and Co-Founder Neli Vazquez Rowland. "Like so many other important causes that get the spotlight, support and a priority response, it's only when we show up to support them will the cries for help from our most vulnerable neighbors in need get heard."
ASH has been a pioneering architect and an anchor organization serving and meeting the needs of Chicago's homeless since 1994. Their integrated network of behavioral healthcare, education, job training, social enterprises and phased housing programs is headquartered in one of Chicago's most poverty-stricken communities known as the North Lawndale community. ASH houses and feeds three healthy nutritious meals to over 5,000 homeless people including adults, youth, families with children and military veterans, annually.
To register to run or walk by yourself or a team,  sponsor a runner/walker or a team or to simply donate to the cause, please visit this link:  www.RunToEndHomelessness.org.
Event swag bag includes a commemorative t-shirt and face/neck gaiter/headband, while supplies last. All swag will be shipped to participant, please allow 5-7 days for delivery.