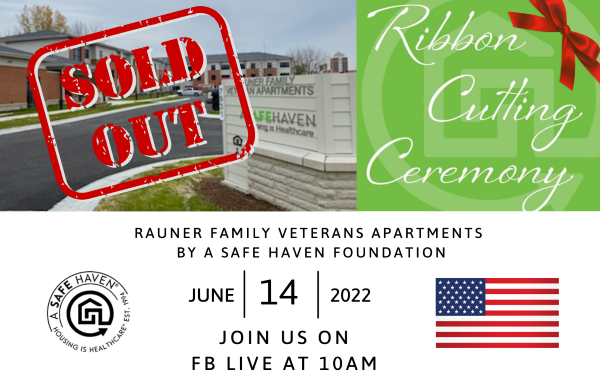 ASH FLAG DAY RIBBON CUTTING CEREMONY VETERAN HOUSING HOBART INDIANA
For IMMEDIATE RELEASE:
Contact: Media@ASafeHaven.org or 630-606-9997
A Safe Haven Foundation Opens NEW LOCATION in the State of Indiana and
HOSTS RIBBON CUTTING Ceremony for
The RAUNER FAMILY VETERAN APARTMENTS in City of Hobart on Flag Day 2022
A US Department of Housing and Urban Development and US Veterans Administration HUD/VASH Voucher Based Project

(Chicago, Illinois) June 14th —A Safe Haven Foundation (ASHF), a 27-year-old Chicago based nonprofit and multifaceted award winning behavioral healthcare, social enterprise and phased housing real estate developer expands its footprint into the State of Indiana hosts the Ribbon Cutting ceremony at 10 a.m. Thursday Aug. 27, 2020 at 7930 Iowa Street, Hobart, Indiana for a 75 unit veterans housing project. The project partly funded by the US Housing and Urban Development (HUD) with onsite services in partnership with US Veterans Administration (USVA) and professional property management by KMA Companies. The project is called The Rauner Family Veteran Apartments by A Safe Haven Foundation.
The apartments are dedicated to low income, senior and disabled military veterans who are referred to A Safe Haven by the local US Veteran Administration. The professional property management is by KMA Companies Property Management Company (KMA).
The 75 apartments showcase fully furnished apartments, a flexible meeting space/community room, exercise room, laundry room, bike storage and a beautifully, professionally landscaped outdoor patio courtyard, the US Flag and a Flag from every branch of the military. The walkway to the main entrance will feature a Bronze Star monument to Michael J. Rowland, a decorated Korean War Veteran and father of A Safe Haven Co-Founder and US Army Veteran Brian M. Rowland.
The HUD-Veterans Affairs Supportive Housing (HUD-VASH) program combines Housing Choice Voucher (HCV) rental assistance for homeless Veterans with case management and clinical services provided by the Department of Veterans Affairs (VA). VA provides these services for participating Veterans at VA medical centers (VAMCs) and community-based
outreach clinics to help Veterans find and sustain permanent housing. HUD has approved 75 vouchers for use by veterans for this project.
"Since 1994, A Safe Haven's mission has always been to set new paradigms and standards of care to address and solve the root causes of poverty and homelessness, especially on behalf of our Veterans" said ASHF President and Co-Founder Neli Vazquez Rowland. " ASH was the vision of Brian Rowland, a US Army Military Veteran who co-founded organization, projects like this one are very important as it helps us raise the bar and expand our transitional, supportive and permanent housing solutions. We are very proud to help bring our unique, comprehensive and scalable model to the State of Indiana and to build another beautiful place to live to a State where so many of our nation's heroes call home."
"We are honored that Safe Haven has chosen the City of Hobart to be the location of their veterans housing project. I commend the Rauner family and the Safe Haven Foundation for their efforts in providing housing and assistance to veterans that have fought for this country to protect our freedoms." – Brian Snedecor, Mayor of Hobart, Indiana
In addition to over $20 million in Federal HUD/VA rental housing tax credits, bond volume and other financing secured from the Indiana Housing and Community Development Authority (IHCDA), former Governor of Illinois and Venture Capitalist, Bruce Rauner and his wife, Diana Rauner, have generously gifted $1,000,000 to A Safe Haven Foundation to support financing and long-term ongoing support.
To make this development a reality the leadership team at A Safe Haven Foundation has worked with KMA Companies as the development partner and the City of Hobart on this project for almost four years.
"There are so many individuals and organizations involved in this project that it would not be possible without their constant and long term support," said Neli Vazquez Rowland. "First and foremost, I would like to give special thanks to the US Department of Housing and Urban Development, for their leadership and support. We also want to thank the former Illinois Governor Bruce Rauner and his wife, Diana Rauner for their generous gift to A Safe Haven. We also owe a debt of gratitude to the leadership of the Indiana Governor Eric Holcomb, Hobart Mayor Eric Snedecor, the US Veterans Administration, Indiana Housing Community Development Authority, City of Hobart, Lake County Community Economic Development Department, Cinnaire Investment Corporation, Multifamily Coalition for Affordable Housing, and The National Bank of Indianapolis, Architects Martin Riley and Real Estate Developer, Devin Rowland, President of KMA Companies and all of our other partners and stakeholders for all doing their part and helping make this project a reality. We also want to thank the A Safe Haven Foundation's Indiana Veterans Advisory Board lead by Pat O'Donnell, Veterans Radio, Dan Mills of the American Legion, Bob Carnegie of DAV, Bill Emerson, Jim Chancellor and Victor Baker as well as Joe Amarillo and Commissioner John Brezak. Special thanks to David Lasko for donating the land. Without the assistance of these individuals and organizations, an ambitious and essential project like this one could not be possible. Most of all we are very grateful for the privilege to work with so many committed and caring national, local and veterans advocates," she said.
"Over the last 25 years Diana and I have been proud to support the important work that Neli and Brian Rowland, CoFounders of A Safe Haven, have been doing to develop housing that all Americans in crisis need to live their lives with pride and dignity. As 'first movers" they were among the earliest to identify the need to build more supportive and affordable housing through public private partnerships. The Rauner Family Veteran Apartments by A Safe Haven is another example of our long-standing commitment to that effort. I want to thank Mayor Brian Snedecor and Governor Eric Holcomb and all the partners who share our commitment to make the housing needs of our nation's heroes a critical priority. Together we are deeply honored to help provide the highest level of housing and service for our military veterans. "I can't think of a better way to thank them for our Freedom than giving them a place to call home." – Former Governor Bruce Rauner, Rauner Family Foundation
"It gives me great pleasure welcome you to the Ribbon Cutting Ceremony for the Rauner Family Veteran Apartments. It couldn't be more fitting that you're marking this milestone on Flag Day. Our veterans have been there for us, and it's our privilege to be there for them. That's why the work you do at A Safe Haven Foundation is so important. Since 1994, you have shown dedication in addressing the needs of Hoosiers, helping over 135,000 people access behavioral healthcare, education, job training, and a place to call home. Your dedication to the continued care of our veterans and their families deserves to be recognized and celebrated. We are honored to have men and women of your caliber joining together to make a difference. Thank you for the vital role you play in our communities.The Rauner Family Veteran Apartments is taking a significant step toward our Next Level vision for Indiana. As a veteran and as governor, I couldn't be more
thankful for all you do to support veterans and our Hoosier communities. Congratulations on this enormous achievement" – Governor Eric Holcomb, Military Veteran & Governor of Indiana