Testimonials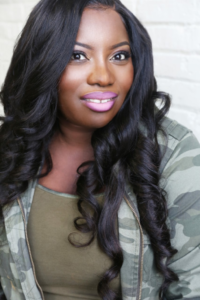 Nikelcia Marcelin – "(In)Visible Wounds Are Equally Important as Visible Wounds"!
My name is Nikelcia Marcelin. I served in Afghanistan and Korea. I served 8 out of 10 of my military career overseas. As a Veteran that served a majority of my military career overseas when I returned to America. It felt like a new war zone and that zone was a War On Poverty and my community was losing the war. I began to explore why so many people were facing poverty. I am a decorated Soldier with many talents. I was determined to change the narrative. I went to school and wrote a book about "Are Veterans Transitioning Effectively In American Society." I became the author and the case study at the same time. My military school benefit had ended for the semester, my family could not support me at the time, I was dealing with trauma resurfacing from a domestic violence issue. I needed help but didn't think it would cause long term financial hardship. I had asked for support from Veteran Organizations and all the resources were unavailable. It was hurricane season and everything was tied up. At this point I was seeking spiritual guidance and was out of town. I was an unknown city and needed to travel back quickly to handle the journey ahead. Suddenly, I was stuck; my account experienced identity theft. My resources were few and far in between. I didn't have enough resources to return home and I was unable to connect with my family because of safety concerns. Being in an unknown city I relied on my military resources. I prayed and asked God to send me to a safe haven. I connected with the local Veteran Affairs Office For assistance. When I went through an intake I was told that there were several organizations that provide temporary shelter. And then I realized that this long list had names but one that stood out was called A Safe Haven! Answered Prayer. I took it as a sign and I asked to Journey with this organization. While the road seemed difficult to acclimate at the time. It became more daunting that the resources needed to house me as a Veteran were not available for Female Veterans with Children. Confused and bewildered by this result. I was not only homeless but there were no funds allocated for my family. A Safe Haven helped my family by providing us with shelter under the Children and Family resources. Resoucre's designated for residents of Chicago. Feeling shamed and neglected as a Veteran Community. Though A Safe Haven never allowed me to feel that way in there hospitality and resources. They Waived rules so that my family would not have to sleep in the streets. This stay caused me to truly deal with my invisible wounds. Wounds that were surfacing in my priority and mindset.
For Years I hid behind my routine masking my pains through activity, people, places and things such as career, faith, roles and more. I thought visible wounds are more important. But after several encounters with invisible wounds surfacing because of false humility I quickly had to invest in treating these wounds or die. It was an emergency and I needed it. I dropped every desire and every weight of social pressure. I checked out outwardly and went to a place of priority!!! My emotional, mental, and spiritual health was more important then my looks and social status. Military lifestyle taught me how when you are in war you prioritize stress.
A Safe Haven Organization allowed me for the first time to deal with these invisible and visible wounds such as hopelessness, fear, depression, homelessness, post party's depression and more. I am grateful for A Safe Haven Staff, Leaders, and more. I truly experienced A Safe Haven experience. As a result I am able to rebuild a better tomorrow for my legacy. Thank you A Safe Haven Family!!! As a result of your help I am currently in stable housing and pursuing my own business that supports the Veteran Community while aspiring for long term employment and running for office within the near future. My goals are expanding as a result of a bright future! The sky is the limit! My daughter has highs scores in school and is aspiring to accomplish great things in our community. While we have many roads to recover and repair are A Safe Haven provided a stabilization that has kick started our freedom in victory!! Thank you A Safe Haven
With Love,
Nikelcia Marcelin
US Army Veteran
SSG E-6
---
Go to the "A Safe Haven" YouTube Channel