Neli Vazquez Rowland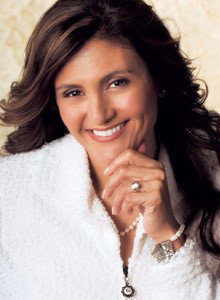 Co-founder and President
Neli Vazquez Rowland, Co-founder and President of A Safe Haven Foundation, is a first generation immigrant born and raised in Chicago. She hails from Chicago's Little Village Community and was the first in her family of seven siblings to graduate college at Loyola University, Chicago.  Since the mid 1980's, Neli Vazquez-Rowland worked as a financial advisor, managing portfolios for over 13 years for high net worth individuals.
An alumni of Chicago Public School system and lifelong Chicagoans, Neli and her husband Brian Rowland, founded and privately funded A Safe Haven for five years, starting in 1994.
She and her husband witnessed firsthand the paucity of Human Services and the disparity of access to services that existed between people with resources and those without.  In 1994, she became personally frustrated by the fragmented approach to homelessness and poverty issues and by the lack of efficiencies, accountability and outcomes by both public and private efforts.  So, she along with her husband, Brian Rowland, began investing in real estate to provide housing and substance abuse counseling for people recovering from drugs, alcohol addiction and homelessness.  Since that time, Neli and her husband took the 'leap of faith' and made this her and her families life's work.  After 5 years of running the pilot, she left her 13-year career in Investment Banking to pursue her vision and her new found calling to create a place that served as a one-stop shop to help people in crisis transition to jobs and permanent housing.
Today, A Safe Haven operates one of the largest Human Services agencies in the Midwest, managing a network of 40 Real Estate Developments, and four Social Business Enterprises providing employment for individuals with multiple barriers to employment and have earned a second chance. Since she started her mission, she continues to apply many business principles to ensure that all stakeholders achieve a solid 'triple bottom line' return on investment and social impact: "saving money and saving lives".   She has been the driver that has scaled A Safe Haven's work which now employs nearly 200 credentialed employees; manages an annual operating budget of $16 million; over $50 Million in assets; and provides over 2,000 units of phased housing including: transitional, supportive, affordable and senior housing and programs that includes: individualized case management, nutritious meals, drug and alcohol treatment, mental health, education, healthcare, job training.
Because of Neli's unique background, she leads by example and has contributed to the success of A Safe Haven.  Her goal was to position A Safe Haven to effectively serve as a behavioral health delivery model that connects the dots and serves as a one-stop-shop for each life impacted by its services.  More importantly, she created an innovative model that serves as an alternative to criminal justice models which is often related to individual's poverty issues, and the consequences which include criminal behavior and academic failure.  She firmly believes that by solving the root causes for homeless and poverty issues we can reduce the incidence of crime, emergency healthcare costs and academic challenges. The A Safe Haven's model focuses on streamlining the continuum of care and anecdotal evidence proves that it helps individuals rebuild their lives with pride and purpose and empowers people to pursue their unique path to self-sufficiency.
Neli today is recognized as a trailblazer and innovative leader on topics of social and economic impact; and shares her message on the world stage, and is a highly sought-after speaker on poverty, homelessness, veterans, social business enterprise, and social impact models within academia, public/private sector and government agencies.  She has been the recipient of the many honors and awards, e.g., White House Champions of Change, Chicagoan of the Year by Chicago Magazine; and her landscaping company, A Safe Haven Landscaping has been named the recipient of two gold awards by the Landscaping Contractors Association in recognition for their work on Michigan Avenue and Wacker Drive.
Since 1994, A Safe Haven has directly impacted over 110,000 lives and annually serves over 5,000 men, women, families, youth, Veterans, and the reentry population, helping them break cycles of poverty with their pride and purpose restored. Last year she was proud to tout that they placed almost 1,500 formerly homeless individuals into jobs.
Neli has dedicated her life to building and helping to inspire a new paradigm regarding our nation's approach to the issues of poverty and related social determinants.