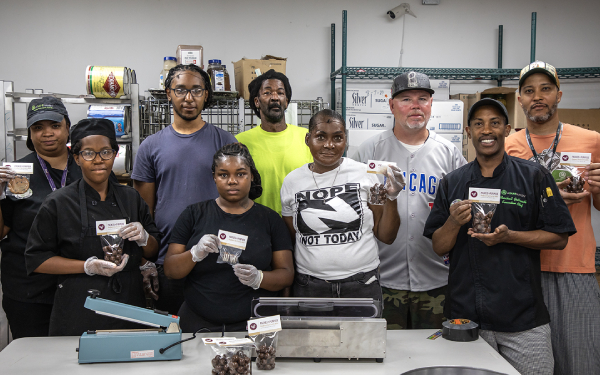 New Confectionary Line Creates Social Impact In Every Bite
Launch of PwP Treats creates jobs for Chicago-based non-profit through innovative partnership with impact-driven gifting company
Chicago, Illinois, Sept. 21, 2023 (GLOBE NEWSWIRE) — Chicago-based Packed with Purpose (PwP), a certified woman owned and B Corp gifting company, proudly announces the launch of PwP Treats, a delicious selection of artisanal confections, in partnership with A Safe Haven Foundation (ASHF), a Chicago non-profit restoring hope and opportunity to veterans and individuals experiencing homelessness.
ASHF is one of the largest homeless service providers in the Midwest. The creation of these confections continues PwP's commitment to delight and impress their customers with memorable products while amplifying the impact of exceptional purpose-driven organizations.
"Packed with Purpose's PwP Treats line fulfills a much-needed gap in the market for meeting and event planners, hospitality industry professionals, corporations, and everyday individuals looking to elevate their gatherings by providing distinctive, budget-friendly event and amenity options that provide employment and job training to individuals on a path toward self-sufficiency. We couldn't be more energized by this partnership", said Leeatt Rothschild, Founder and CEO of Packed with Purpose.
ASHF will fully manage the entire post-production process, including the hand-packing, sealing, labeling, and quality control measures necessary to guarantee that the exceptional quality of each item is met.
"This partnership is providing much-needed job opportunities to people trying to transform their lives into something better. These jobs allow them to take pride in a job well done," said Marshall Galbreath, Executive Chef and Food Service Director at ASHF. Galbreath, a former Army veteran and one-time resident of ASHF, understands firsthand that "where these individuals were yesterday is not where they have to be tomorrow. Partnerships like Packed with Purpose help them continue on their path forward."
"I am humbled and heartened that through this collaboration the PwP Treats line is on track to provide 3200 hours of employment to ASHF residents this holiday season." continued Rothschild. "We fully expect to amplify that impact two-fold in 2024."
This new line will launch with four products, available as stand alone confectionary bags, or as part of a curated Packed with Purpose gift. These include 5 oz bags of chocolate covered cherries, malt balls and nonpareils, as well as a 2 piece chocolate meltaway with drizzle. Each item allows for branding, enabling organizations and individuals to include their logo on each product.
About:
Packed with Purpose is a Certified Woman-Owned and B Corp business that embeds social and environmental impact into the everyday act of gift giving. From preserving the environment, to investing in women & diverse-owned businesses, to employing adults with barriers to employment, their distinctively curated gift boxes result in a unique gifting experience that is as inspiring as it is impressive. Companies choose Packed with Purpose to strengthen relationships with clients, employees, or prospects with gifts for every budget or occasion through seamless ordering, branding and customization. Founded in 2016, the company has ranked in the top 10% of Inc 5000's Fastest Growing Private Companies in the U.S in 2021 and 2022.
For more information about Packed with Purpose visit pwp.gifts.
A Safe Haven's mission is to restore hope and opportunity to individuals in crisis by providing them with treatment, housing, support services, and career opportunities. Founded in 1994 on the principle that everyone deserves clean, safe, and affordable housing, ASHF serves over 3,800 clients per year.  They provide an individualized case management strategy to each and every client working with them to create holistic goals as they reintegrate into society.
For more information about A Safe Haven visit ASafeHaven.org