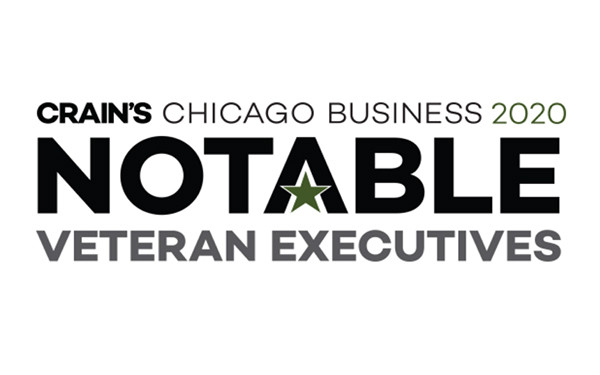 Crain's Chicago Names A Safe Haven Co-Founder Brian Rowland a 2020 Notable Veteran Executive
(Chicago, IL) — We are proud to announce that Brian Rowland, co-founder of A Safe Haven (ASH) was named a Crain's 2020 Notable Veteran Executive. He was recognized among other top Chicago military veterans and executives making a difference in their community. In 2020, Crain's selected military veterans that went above and beyond the call of duty to meet the urgent need and challenge to respond to the pandemic to help those in crisis.
Since 1994, Rowland has been a pioneering visionary social real estate entrepreneur who has focused on filling a gap and building the property management needs and a real estate portfolio that is uniquely designed to help prevent and end homelessness. A Safe Haven offers a unique continuum of housing that consists of supportive, affordable, senior and veteran housing real estate development and property management operations. Rowland works in collaboration with a network of partners. He oversees and leads the constant property management, capacity building, and expansion needs while building a more comprehensive approach that is specifically designed to serve and house people with barriers to housing, including military veterans returning stateside, individuals, and families with children who were formerly homeless, incarcerated and those facing credit and limited financial resources.
Undaunted by the pandemic, his most recent projects broke ground during the State of Illinois shelter in place order and on all housing fronts has remained fully operational. Under his guidance and leadership, two new A Safe Haven Foundation veteran housing projects broke ground: a 75-unit apartment building in Hobart, Indiana, and a 90-unit apartment building project located in Chicago's North Lawndale community. The projects are in partnership and collaboration with HUD/VA, the City of Chicago, the City of Hobart, their respective State Housing Development Authorities, and many others. These projects, which will open in the summer of 2021, will provide permanent affordable apartments for military veterans who are low income, senior, or disabled.
A Safe Haven has been on the front lines and anchored in some of our most marginalized communities serving the most poverty-stricken and vulnerable for 26 years. Brian Rowland founded ASH with his wife, Neli Vazquez Rowland, ASH co-founder, and president when they became personally frustrated by what they noticed were becoming stricter policies that incentivized building broken, fragmented, unjust, and unsustainable delivery systems that were especially impacting those affected by the opioid epidemic.
Since the beginning, he has been responsible for leading a network of public and private funder's efforts to fund and invest in building over 40 redevelopment and new development projects that have served as catalysts for stabilizing communities and families in need.
As a result, ASH's housing and services network has helped over 130,000 people transition from homelessness to self-sufficiency, including over 35,000 military veterans.
Rowland and ASH's overall mission goes beyond housing as they also assist veterans in the workforce. ASH has specific programs in place to support veterans in obtaining jobs and has hired them as well. In 2018 and 2019, ASH has won a Gold Medallion award issued by the Department of Labor for being one of the top employers of the State of Illinois that not only hires veterans but trains them and retains them.
Crain's Chicago Business also recognized his wife Neli Vazquez Rowland's work at A Safe Haven Foundation by naming her as a 2020 Healthcare Hero for her leadership in response to COVID-19. She helped create and build a Medical Respite for Covid-19 positive individuals in need of a place to isolate themselves in partnership with RUSH and the Chicago Department of Public Health. This makes them the only husband and wife team to have been recognized with this prestigious acknowledgment by a national leading business publication.
About A Safe Haven:
A Safe Haven Foundation is a 501(c)3 not for profit, social enterprise that helps people aspire, transform and sustain their lives as they transition from homelessness to self-sufficiency with pride and purpose. A Safe Haven provides the tools for each individual to overcome the root causes of homelessness through a holistic and scalable model. A Safe Haven's visible social and economic impact unites families, stabilizes neighborhoods, and creates vibrant, viable communities. For information, visit https://www.asafehaven.org.
###