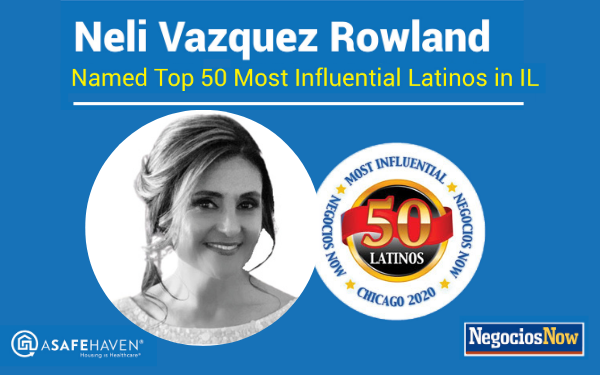 ASH Negocios Now Influential Latinos Awards
Negocios Now Business Magazine Names Neli Vazquez Rowland, Co-Founder and President a Top 50 Most Influential Latino in the State of Illinois
(Chicago, Illinois) March XX, 2021—A Safe Haven (ASH) Co-Founder, President Neli Vazquez Rowland named 50 Most Influential Latinos in Chicago for 2020 by Negocios Now, a national award-winning publication featuring news about Hispanic businesses, named. ASH is an internationally acclaimed top Chicago-based 501 ©3 nonprofit dedicated to preventing and ending homelessness.
Vazquez Rowland was included among an impressive list of top Hispanic executives in the areas of business, nonprofits, government and healthcare. After 13 years of working as finance professionals, Neli and her husband Brian Rowland frustrated by what they identified as broken, fragmented and unsustainable approaches to poverty they left their successful careers to focus on building ASH to create and build a more comprehensive solution to poverty, addiction, and homelessness. Today it's expansive network of public and private partnerships and social enterprises, A Safe Haven has become a leading aspirational brand and scalable model dedicated to ending poverty and homelessness.
"I am honored that Negocios Now selected me to be among their list of outstanding Chicago Hispanic leaders," she said. "For over 26 years, we have been focused on offering a comprehensive, vertically-integrated approach that helps heal root causes and offers a full continuum of services including individualized case management, transitional housing, behavioral healthcare, healthcare, education, job training and access to employment and permanent affordable housing. A Safe Haven serves people of all ages and backgrounds including military veterans who may find themselves in crisis due to the opioid epidemic, alcoholism, job loss, incarceration, domestic violence and now with the COVID-19 pandemic. Recognition like this is greatly appreciated as it helps bring more awareness and support to the cause."
Since its inception, in 1994, ASH has helped over 130,000 people and more than 25,000 military veterans with its unique, individualized and fully integrated approach of its services, opportunities and resources. The vast majority of A Safe Haven residents overcome some of the most difficult and chronic situations and move on to live sustainable and self-sufficient lives. A Safe Haven recently launched a book called "Healing". It is a powerful anthology featuring 12 testimonials which represent many of the tens of thousands of lives that have turned their lives around to become inspiring success stories today. The book is now available on Amazon.
"Experts are predicting a 40% surge in homelessness and we are already seeing a double digit rise in opioid drug overdoses, around this country. We are preparing to meet that significant demand and are grateful to our partners and supporters for doing their part to help us make sure that no one gets left behind." Rowland said. "As we are considering with the new normal will be in a post covid-19 pandemic era, we are doing everything we can to ensure that we take a more comprehensive, proven and systems-based approach to poverty that leads to measurable and sustainable outcomes. I'm grateful that Negocios Now has acknowledged my work and leadership on this very important issue."
"As an avid runner and homeless and mental health advocate, I encourage everyone to join me in our 2nd Annual GLOBAL VIRTUAL RUN/WALK To End Homelessness happening the week of July 17th – 25th to learn more please visit: www.RuntoEndHomelessness.org"